Two high school students were recognized in front of the Board of Education at the January meeting for being selected as the Character and Leadership award honorees for the month of December. Dylan Roath received the Character Award while Al Hand was bestowed the Leadership Award.
Character Award - Dylan Roath
"It is my pleasure this evening to recognize Dylan with the Character Award for the high school. Dylan is a senior and an outstanding student. On top of his rigorous coursework, Dylan has been involved in FFA, band, marching band, and has been a member of the boys soccer team for the past 4 years.
Mrs. Burgett, high school art teacher, nominated Dylan and noted, 'Dylan is an all around great human being. He has been kind and polite to everyone I've seen him encounter. On numerous occasions he has shown acts of kindness in my classroom. There have been a few times where accidental major messes have been made by other people in the art room, and Dylan is the first one to act with a helping hand. Dylan comes to class everyday ready to work and challenge himself. He is truly a great student and classmate.'
Miss Varin, Varsity Boys Soccer coach explains, 'Dylan was always the first one to help with equipment even if he was not assigned to it. He was always on time and worked hard every single day. If he had a conflict with practice or a game he would let me know well beforehand. He is one of the most responsible and respectful players I have ever coached.'
Even though Dylan is on the quiet side, he never sways from treating others, regardless of who they are, with respect and kindness. Mr. DeJonge, Dylan's Forensic Science teacher, notes, 'Dylan is always respectful of his peers and adults. He is an amazing student, I wish I had met him earlier in his high school career!'
Thank you for being a model of kindness, positivity and hard work, Dylan. Albion High School is better because of you. Congratulations!" -Principal Ashbery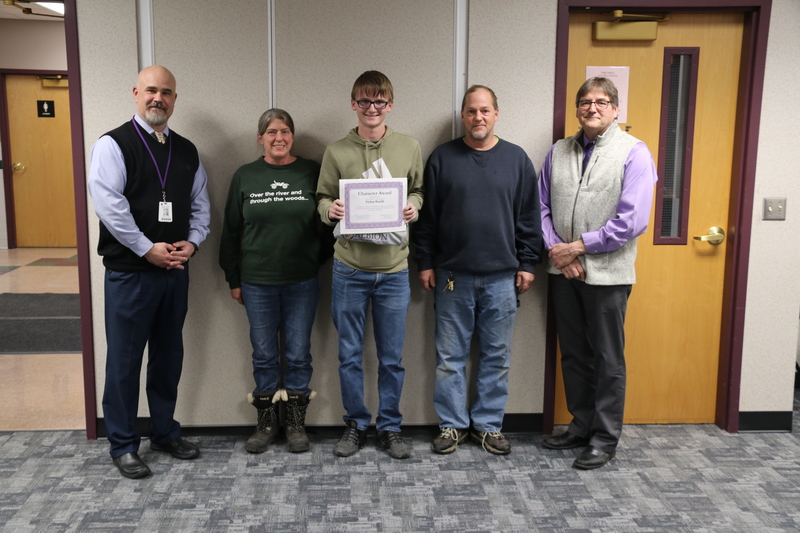 Leadership Award - Al Hand
"Al Hand, a current sophomore at the high school, is this month's recipient of the Leadership Award. Al was nominated by Mr. Doran, the high school vocal music teacher and drama co-director. In his nomination, Mr. Doran writes, 'It's my pleasure to nominate Al Hand for the Leadership Award. A leader is someone who celebrates and encourages the success of others. Al has time and time again showcased what it means to be a leader in choir and drama club - rallying the troops, pushing herself to be better, never settling, and maintaining a professional and educational atmosphere amongst other students. When the high school spring musical cast list was announced Al, who earned the role of Wednesday Addams, was way more excited for her peers and friends than her own achievement - she was selfless in her excitement for everyone involved. She represents the best of the student body of Albion Central School District, and what we all strive to be.'
When asked about Al's leadership in her other classes, her teachers explain, 'She is a joy to have in class. Her effort and respect, no matter the activity, is contagious to her classmates. Al may not know it, but she helps to bring the energy level up every time she steps onto the court or field. I'm privileged to have her in class.'
Mr. Owen notes, 'Al is such a great kid! She is always happy! I enjoy having her in my class because she contributes to her own success and the success of others with a cheerful countenance and a refreshing zest that makes learning and teaching fun. I appreciate the way she takes on challenges in class and helps others to do the same. She is very deserving of the award.'
Al, thank you for your positive leadership at Albion High School. We are excited to see where this zest for learning takes you in the future. Congratulations!" -Principal Ashbery