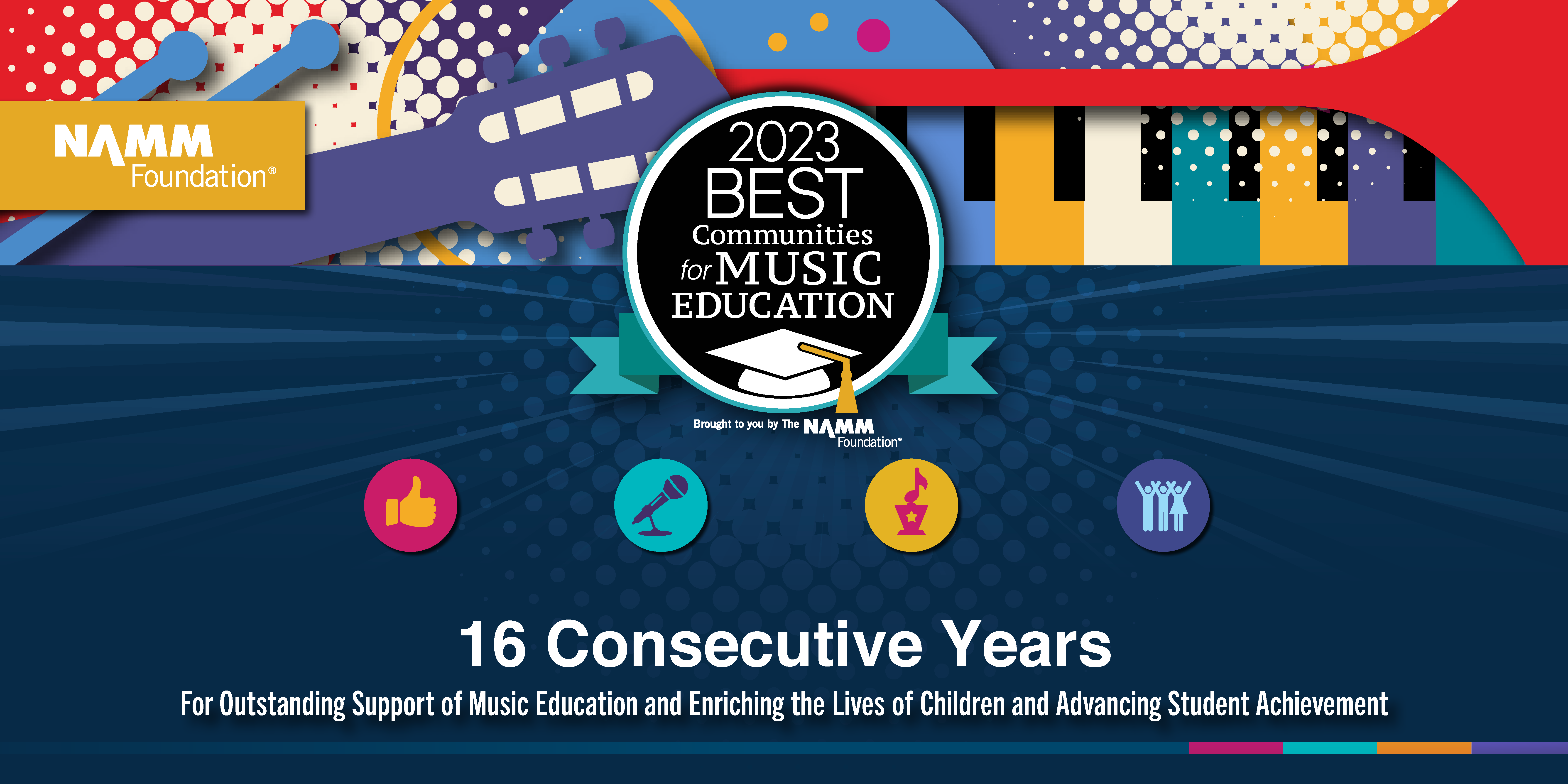 Music is a significant and important part of the school-community at ACS. Our district provides a comprehensive music education, grades K-12, which includes compulsory general music classes, several elective music courses, AP Music courses, music therapy services, both instrumental and vocal small group/individual lessons, and approximately 25 co-curricular and extra-curricular performance ensembles. Our students take part in over 60 performances, both on-campus and throughout the community (and beyond), each year.
For the last sixteen consecutive years, the NAMM Foundation has named Albion one of the "Best Communities for Music Education in the Nation."
2022-2023 Meeting Dates:
September 15, October 20, December 1, January 19, February 16, March 16, April 20, May 18
The music department is looking for donations of instruments. Does anyone have an old flute or clarinet taking up room in a closet? If so, our awesome band directors can put them to good use. They are also looking for trumpets, trombones and alto saxophones.
If you are interested in donating please reach out to Mrs. Almeter at lalmeter@albionk12.org or Mr. Martillotta at gmartillotta@albionk12.org.
May 13: Marching Band at Lilac Festival Parade

May 17: HS Chorus concert, 7pm

May 18: Grades 3-4 Chorus and Band concert, 7pm

May 20: Marching Band at Springville Pageant of Bands

May 24: Grade 5 Chorus and Band concert, 7pm

May 27: Marching Band at Darien Lake Music Festival

May 29: Marching Band at Albion Memorial Day Parade

June 3: Marching Band at Nunda

June 6: MS Concert, 7pm

June 7: HS Band concert, 7pm

June 10: Marching Band at Strawberry Festival Parade
The music department offers a variety of curricular, co-curricular and extra-curricular groups and electives for students. Below is a listing of opportunities for students.
Curricular
General Music (aka "Classroom Music"), grades K-8
12:1:1 Life Music (HS)

Co-curricular
4th Grade Band
5th Grade Band
6th/7th Grade Band
6th/7th Grade Chorus
8th Grade Band
8th Grade Chorus
Sr. High Concert Band
Sr. High Mixed Chorus
Extra-Curricular
Elementary Jazz Band (ES)
3rd/4th Grade Chorus (ES)
5th Grade Chorus (ES)
Middle School Jazz Band (MS)
Musical Theater productions (MS)
Men's Select Choir (HS)
Women's Select Choir (HS)
National Anthem Singers (HS)
Musical Theater productions (HS)
Pep Band (HS)
Jazz Ensemble (HS)
Pit Orchestra (HS)
Flute Choir (HS)
Clarinet Choir (HS)
Saxophone Ensemble (HS)
Brass Ensemble (HS)
Trombone Choir (HS)
Percussion Ensemble (HS)
Marching Band (HS)

Electives (High School)
Introduction to Music History
Introduction to Music Theory
Introduction to Musical Theater
AP Music Theory