Deputy Matt Prawel started as the School Resource Officer in September 2022. The Deputy grew up in Medina and went to school in Oswego to earn a bachelor's degree in criminal justice and forensic science. He worked part-time in the sheriff's office as he went to the Academy in 2019, and worked two years on the marine patrol. He worked full-time at the City of Lockport for a few months, returning here September 2021. Deputy Prawel grew up in a law enforcement household and this is all he ever wanted to do.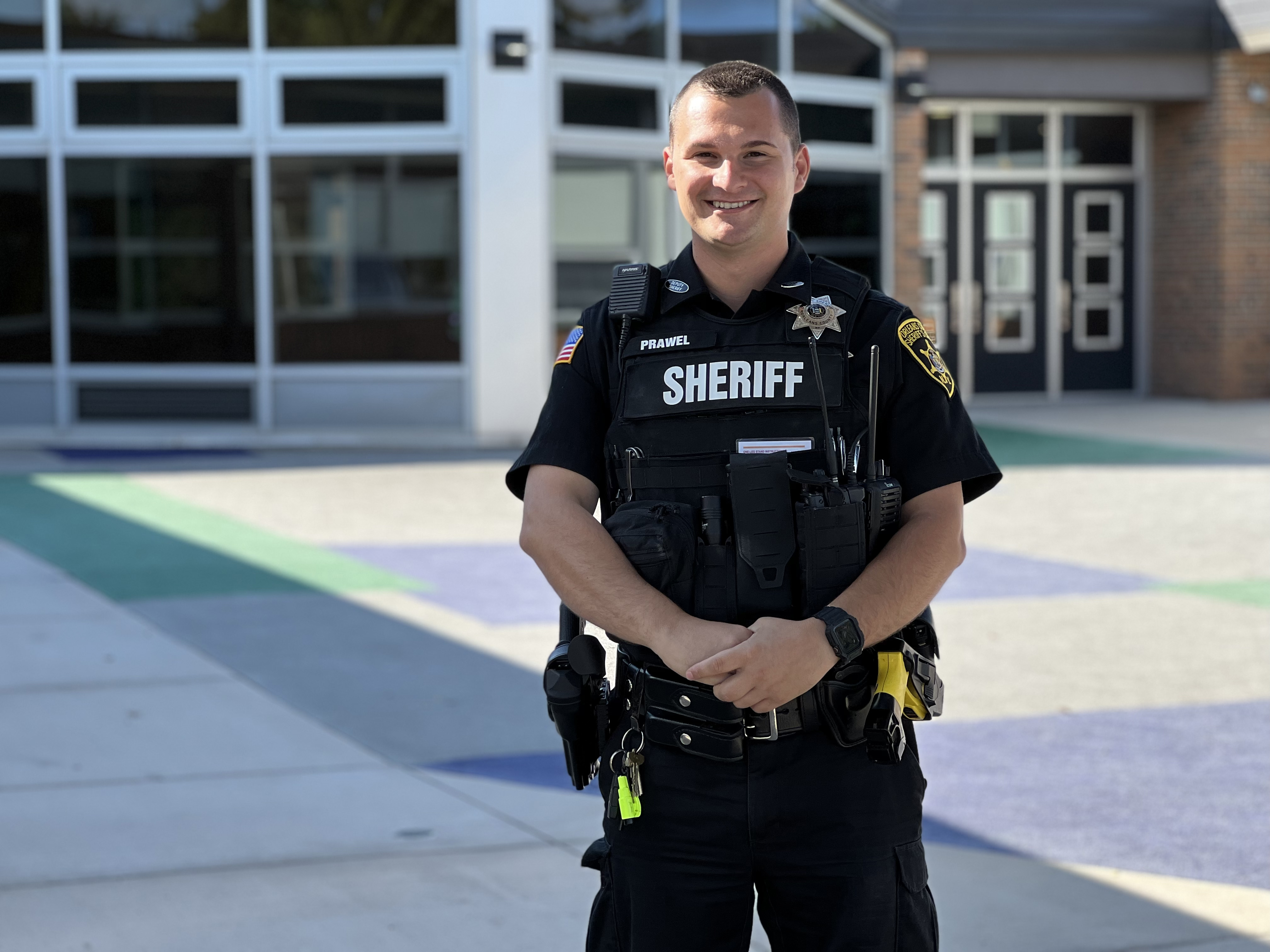 The Raptor Visitor Management system, a visitor screening process, began to be used in June of 2021.
The automated system screens and records each visitor, volunteer, or contractor who enters the district, allowing the district to more accurately identify guests in our buildings. It screens for sex offenders, alerts our staff of custody issues and provides us a list of anyone who has been on campus.
If you plan to enter a school, you will need to provide your driver's license or government issued identification in order to receive an identification sticker to wear and display during your visit to our schools.
Your child's safety and well-being is our top priority. This process will help to make our schools safe.
To learn more about the Raptor Visitor Management system, head to https://raptortech.com.
Bark for Schools is a powerful monitoring service we are utilizing to help us better protect students' school-issued email accounts both at school and at home*.
When schools give students access to laptops and email accounts, an incredible world of learning opportunities open up — as well as potential dangers. Bark helps us monitor all of the content our students are creating, sharing, and sending through school-issued accounts. This helps us to detect potentially dangerous situations that students may be facing both in and out of school, including cyberbullying, threats of violence, predatory advances, sexual content, and suicidal ideation.
Every six months, an invitation to create an account for the Bark for Schools Family Alerts Dashboard will be sent out to all of the parents in our district. This will allow you, the parents and guardians, to receive alerts regarding potentially dangerous situations your student's may be engaging in after school hours, during weekends, breaks, and holidays.
Bark provides all of the above for free as part of their give back program and is available to all K-12 schools and districts in the U.S.
You can also enable Bark's product for families, which monitors texts, email, YouTube and more than 24 social media platforms for potential safety concerns on your student's personal accounts for an additional fee. To help your family, Albion Central School has secured a 20% discount on the monthly cost, which is $7.20 per month / $79.20 per year to cover an unlimited number of accounts, devices, and children. The upgrade is available through the Bark for Schools app.
Thank you for helping us to keep our students safe online and in real life.
For more information on Bark Alerts, click here.
*The district only monitors Bark Alerts while school is in session Monday through Friday, 7 a.m. - 4 p.m. The district does not monitor Bark Alerts over the weekends or on holidays.
Emergencies in schools must be addressed quickly and effectively. Each school district in New York State creates and implements an emergency plan in response to the Safe Schools Against Violence in Education (SAVE) law. Project SAVE is a comprehensive planning effort that addresses prevention, response, and recovery with respect to a variety of emergencies in schools.
The Albion Central School District's plan details specific procedures on how to handle various emergencies. The District regularly practices emergency procedures by having periodic fire drills, lockdown drills, and evacuation drills. This ensures that all District staff members and students know what to do and where they need to go in case of a real emergency.
When the District is having a lockdown drill or an emergency, no one is allowed to enter or exit the buildings (this includes students, staff, parents, visitors and volunteers). Students can not be released to go home or to appointments during a lockdown. During a fire drill or evacuation drill/emergency, students can not be signed out to go home.
If there is a real emergency, information will be shared with the public as it becomes known to the District. Whenever possible, letters are sent home with students detailing the nature of the incident and how it was handled by the District.
How can you help us in an emergency and/or drill?
Please do not drive to the campus in an emergency. Driveways will be blocked to allow for emergency vehicle access if needed.

Please do not go to your child's building and try to sign him/her out in an emergency. We can not release your child to you and you may indeed put yourself in danger depending on the situation.

If you happen to arrive at a building during a drill, please be patient. We can not release your child to you until completion of the drill.

Please do not call the school to inquire about the emergency. It is important that we keep our phone lines open and available to police, fire and other emergency organizations.

Please go to the Town of Albion offices on Clarendon Road for information regarding an emergency. A school staff member will be on site and available to share information with you as it becomes available. It is important that the energy and time of school and law enforcement personnel is directed to the emergency. If parents congregate at one location, we can accomplish this task.
Thank you for your anticipated assistance with emergencies and drills. By doing your part, you are helping us to stay focused on what we need to do to keep our children safe.
In accordance with the Sex Offender Registration Act ("Megan's Law") the Board of Education supports the NYS Department of Criminal Justice Services (DCJS) in its efforts to inform the community in certain circumstances of the presence of individuals with a history of sex offenses, particularly against children, in the school locality. This policy is enacted in order to minimize the possibility that the sex offender will come in contact with school-age children, and to assist law enforcement agencies in preventing further criminal activity from occurring. Furthermore, the District shall cooperate with local police authorities and the local community in promoting and protecting the safety and well being of its students.
The District has been informed by law enforcement officials or has obtained the information through the NYS Public Registry of Sex Offenders that LEVEL 2 & 3 sex offenders are residing in the area at the following addresses:
In any particular area there may be several people with the same name. Before making assumptions, we highly recommend that you refer to the New York State Division of Criminal Justice Services where you may obtain further information including photographs of all registered offenders. You may access this site by following the link: www.criminaljustice.state.ny.us