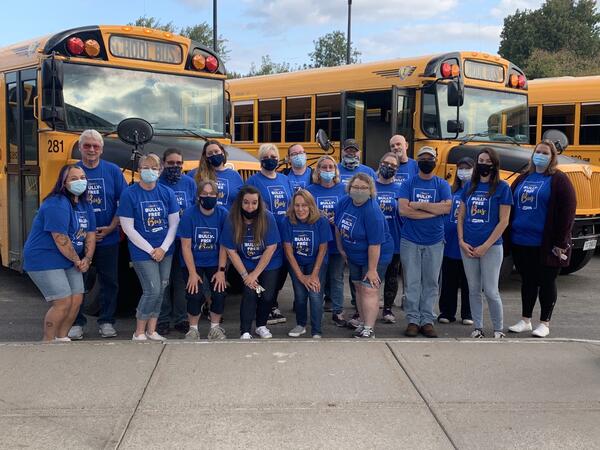 Our bus drivers wore anti-bullying t-shirts to take a stance against bullying in our schools and on our buses.
The District transports more than 490,000 miles of regular bus runs annually, the equivalent of 200 trips to Tampa, Florida and back. Albion Central School buses are owned by the District and are managed contractually by Student Transportation of America. Bus maintenance and inspections are controlled by the N.Y.S. Department of Transportation under the strictest guidelines.
For busing questions, contact Tara Draper, Director (585) 589-2070.
Bus Transportation Information
BUS GARAGE HOURS: Open during the school year from 6:00 AM – 5:00 PM. After hours, please leave messages on voice mail at (585) 589-2070.
All students are eligible for busing. MS and HS students in the village will be picked up by bus at corners. Please review the busing routes at the link located above to determine where your child will be picked up. Please keep in mind that for the first few days of school, the buses will be running a little later than normal in the afternoon. The schedule will adjust within a few days.
The parking lot on the north side of the Elementary School immediately in front of the building is for bus parking ONLY. If you are dropping off or picking up a student, please use the Clarendon St. entrance.

If your child will be transported to/from a residence other than your home:
New York State education law obligates the District to transport students to and from their residence in accordance with defined limits. However, we understand that the babysitter's residence becomes the school bus stop for many of our students. ACSD will, therefore, honor requests for transportation to and/or from a point other than the family residence on an annual basis. EACH YEAR, a transportation form must be completed to request transportation from an address other than your home.

Requests are honored one time only. The District and the parents are obligated to the agreement for the entire school year. The District will not approve bus stops on differing days for any individual student or adjust a student's bus assignment after the beginning of the school year unless you change your residence. This determination is based on the District's requirement to ensure safe and secure transportation for every student. Emergency or extenuating circumstances shall be handled through respective building principals. The District is prohibited from transporting students to after school organizations such as Scouts, 4-H, dancing class, music lessons, or to a friend's house. Requests of this nature are not considered "emergencies" and will not be honored by the District. It is the responsibility of the parent or guardian to provide transportation to and from these non-school related activities.
If you want the bus to pick up or drop off your child at a residence other than your own home, you MUST fill out a transportation form EACH YEAR. Forms can be obtained at each building office. Information can not be accepted over the phone. Parent notes regarding bus changes are not accepted. A form must be filled out no later than September 4th. If applications are received later than that date, it may take up to one week to process them. If you have questions, please contact the District at (585) 589-2056 or the bus garage at (585) 589-2070.
Waiting for the bus:
All students must be outside in a visible location TEN (10) minutes before the scheduled bus arrival time. When substitute drivers are placed on a route, they do not have house numbers of students. They are given the streets to pick up/drop off. Substitutes look for children standing by the road for pick up. Buses are not allowed to honk their horns for students to catch the bus.
Important information for pre-k & kindergarten student transportation to home:
Pre-kindergarten students will not be dropped off at their homes unless the bus driver sees an adult outside, in a window or standing in the door. If a driver does not see an adult, the child will be brought back to school and the parent will have to come and pick up the child.
Kindergarten students will not be dropped off at their home unless the bus driver sees an adult at home or they are riding with an older sibling. Kindergartners will be dismissed at 3:20 PM and will ride the elementary school bus home. The buses leave the elementary school at 3:30 PM.
** Attention Oak Orchard Estate Students: Bus stops will only be at the mailboxes on North Street.
If you plan on having your child bused to or from an address other than your own home, you will need to fill out a transportation request form.
You must do this every school year.
If you have questions about the transportation form, please contact the main office or the bus garage at 589-2070.
Click on the link below to print a copy of our transportation form. Fill it out and return it to your child's school.
Transportation Form in ENGLISH
Most of our students start and end their day on the school bus. We work in conjunction with the transportation department to ensure each bus ride is a positive, enjoyable experience as students either head to school prepared for a day of learning, or travel home at the end of the day to reconnect with their family.
Parents, please find time to share bus behavior expectations with your children. Good behavior can make our bus rides a safe and happy experience for all students!
Our four main bus rules are listed below.
Stay Seated

Talk Quietly

All Hands and Feet to Self

Respect Everyone
We appreciate your help in reinforcing the S.T.A.R. rules with your child.